2022 Spring Concert Featuring Competition Winners, Harp & Jazz Ensembles!
***You can pick up your purchased Online Tickets (available for purchase now!) at the Box Office (Will Call Window), one hour before the performance.
The Philharmonic Orchestra Performs Suppé, Mozart, Castro, Elgar, Kalniņš and Bolvin!
The San Jose Youth Symphony's Philharmonic Orchestra, under the artistic leadership of Music Director and Conductor Yair Samet, presents its 2022 Spring Concert Featuring Competition Winners, as well as its Harp & Jazz Ensembles, to be held on Saturday, March 26, 2022, 4 pm, at the California Theatre, 345 S. 1st Street, San Jose, CA 95113.
The orchestra will open with Suppé's exciting and dramatic Light Cavalry Overture, and will also perform Latvian composer Imants Kalniņš' fascinating and innovative Fourth Symphony, also known as "The Rock Symphony." This concert will also feature two winners from the 2021 Young Artists' Competition, proudly sponsored by the San Jose Symphony Foundation. Outstanding young soloists, Greyson Haryanto, violinist, will perform Mozart's Violin Concerto No. 4 in D Major; and Hudson Fey, cellist, will perform Elgar's Cello Concerto in E Minor.
In addition, the orchestra will perform world premieres of Concerto for Harp Ensemble and Orchestra, a commissioned work by composer Isaiah Castro, and featuring the SJYS Harp Ensemble; as well as Free Climb for Jazz Ensemble and Orchestra, another commissioned work by SJYS Jazz Ensemble Conductor, Eric Bolvin, and featuring his Jazz Ensemble!
The 2021 Young Artist Competition Winners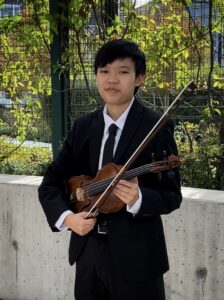 Greyson Haryanto is a junior at Ocean Grove Charter School. He   started playing piano at age 3 and then also started playing violin since age 8. This will be his seventh season with the San Jose Youth Symphony and his fourth with the Philharmonic Orchestra. 
Besides performing, Greyson also enjoys teaching piano and violin privately and volunteering at Free Music School, leading the advanced strings ensemble.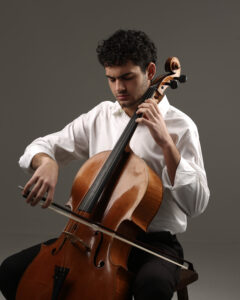 Hudson Fey is a senior at Valley Christian High School. Hudson developed an interest in music at a young age, starting with the violin at age five, and piano at age seven. However, he found his true passion, in cello, at the age of ten. Hudson has been a member of the San Jose Youth Symphony for seven seasons, during which he has played in a string ensemble and the three orchestras and, by the end of the current season, will have performed in two international tours.
The Composers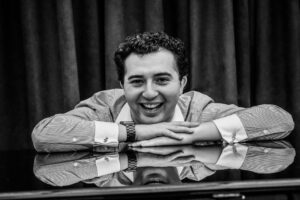 Isaiah Castro is an award-winning conductor, composer, and founding member of the Synesthesia Sinfonietta. Castro studied instrumental conducting and composition at California State University Fullerton's School of Music.
His passion for music began at the age of 10 with piano and bass trombone, later inspiring him to express interest in conducting and composing at the age of 12. His most recent accomplishments feature: being commissioned by the San Jose Youth Symphony, compositional recognition from the American Harp Society, scoring original music for Embark Dance Theatre, achieving status on the Grammy Awards ballot, and much more. Not only does Castro serve as the Artistic and Music Director of Synesthesia Sinfonietta, but he also serves as the conductor of Buddha's Light Youth Symphony Orchestra (BLYSO) at Hsi Lai Temple in Hacienda Heights, CA and is the primary pianist and organist at International Pentecostal Church in Bellflower, CA.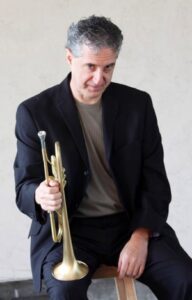 An award-winning composer, arranger, musician and highly-regarded teacher, Eric Bolvin has lived and worked in the Bay Area for the past three decades. As an established educator, he has taught privately at his studio since 1980, and has been Music Director in the Union, Cambrian and Orchard School Districts in San Jose, and the Santa Clara Unified School District in Santa Clara.
Eric also performs professionally in the San Francisco Bay Area, both in his own groups, The Eric Bolvin Group and Eric Bolvin's Quorum, as well as for studio recordings, for albums, soundtracks and for television and radio commercials. He composes and arranges, and he has released several albums. He performs many styles of music, including jazz, classical, rock, Latin, Asian and country western in concerts and clubs throughout the West Coast.
The SJYS Harp & Jazz Ensembles
The Harp Ensemble, comprised this season of 13 harpists strong, is led by conductor, Kristal Schwartz, and  provides  an  excellent  opportunity  to  grow  as  a  harpist  and  musician,  learning  to  perform  together  as  an  ensemble  as  well  as  gaining  experience  performing  as  soloists.  

The  Harp  Ensemble  has  performed in  a  variety  of  venues,  from  the  Cathedral  Basilica  of  St.  Joseph in their Season of Hope Concert series to  Filoli  Gardens  in  Woodside.
The Jazz Ensemble, led by conductor, Eric Bolvin, is one of SJYS's newest groups and now in its sixth season! It is an advanced ensemble for high school and very advanced middle school students. The band features saxophone, trumpet, trombone and rhythm sections, and plays swing, blues, Latin, rock, funk and ballad styles. The musicians also spend time working on improvisation.