CHAMBER ORCHESTRA
The Chamber Orchestra is one of the San Jose Youth Symphony's premiere ensembles alongside the Philharmonic Orchestra. It is for musicians of high school age at the advanced musical level. Rehearsals will focus on the full orchestra as well as small chamber music groups coached by professional musicians. Our goal is to involve as many Chamber Orchestra musicians as possible in small chamber music groups in addition to the full orchestra. Master classes will be presented during the season by leading musicians in the Bay Area.
Artistic Requirements
Musicians must meet these artistic requirements in order to be accepted into the Chamber Orchestra.
2019 – 2020 Season Repertoire
First Concert – January 26, 2020 at 5 pm, Hammer Theatre, San Jose
Mozart – The Impresario Overture
Ibert – Hommage à Mozart
Haydn – Cello Concerto No. 1 
Rebecca An, cello
Tchaikovsky – Orchestral Suite No. 4, "Mozartiana"
Second Concert – May 23, 2020 at 5 pm, Hammer Theatre, San Jose
Schubert – Overture in the Italian Style in D Major
Beethoven – Triple Concerto
Ekaterina Kabenina, violin — Severin Michael, cello — Matheo Irazabal, piano
Rossini – William Tell – Pas de Six
Chamber Orchestra – A Successful Season
The Chamber Orchestra finished their ninth season in the Season Finale at the Hammer Theatre. The program was extensive and included small group performances and orchestral pieces.
Concerts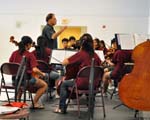 Chamber music is often described as "the music of friends." A spirit of collaboration is at the heart of this art form as each musician is engaged in an intimate musical dialogue with the other performers. Some of history's greatest composers viewed chamber music as a vehicle to create their most profound and important works.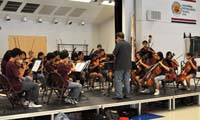 Chamber music is an essential component of music education and it helps tremendously in developing ensemble playing skills. A chamber orchestra is typically comprised of 30-40 musicians. Unlike a full orchestra, the parts (with the exception of strings) are not doubled and this unique instrumentation allows the individual musician to stand out.
The Chamber Orchestra will perform two concerts every season at the Hammer Theatre, San Jose State University (downtown San Jose).   Programs will include chamber orchestra works as well as music written for small chamber groups. Musicians will have many opportunities to perform solo parts. Concert admission is $10 for adults; $5 for students and seniors; and free for kids under 5.
Rehearsals
Rehearsals for the Chamber Orchestra are held every Sunday from 3:00 – 6:00 PM at Los Gatos United Methodist Church (LGUMC) (details)
Sectionals
In every concert set musicians will receive up to two sectionals coaching by leading professional musicians from the area. Approximately every 6 – 8 weeks the orchestra will be divided into small groups and professional musicians will assist SJYS members to develop their skills.
Tour Opportunity
Some members of the Chamber Orchestra might be invited to perform in Philharmonic Orchestra concerts, as well as participate in international tours depending on the spots available.