Charles Ancheta
Conductor, Concert & Winds and Saxophone Ensembles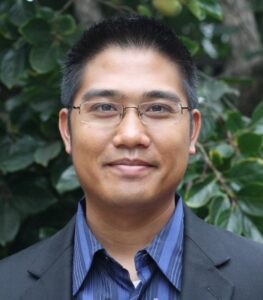 Charles Ancheta grew up in the San Francisco Bay Area. He attended San Jose StateUniversity where he obtained a Bachelor of Arts Degree in Clarinet Performance. Additionally, he studied wind band conducting. Following his undergraduate work, Charles obtained his California Teaching Credential in Music.After his post-graduate work, he attended Arizona State University and earned a Master of Music Degree in Clarinet Performance as well as opera conducting studies.
Charles is in his 10th year with the Sunnyvale School District as the Music Director and Department Chair at Sunnyvale Middle School. His first six years with SSD were at Columbia Middle School. In between CMS and SMS, Charles was the Music Director at Prospect High School in the Campbell Union High School District. He continues to teach clarinet privately in the South Bay Area. Charles is a member of the National Association of Music Education (NAfME) and the California Music Educators Association (CMEA).
Since the 2010-2011 Season, Charles has conducted the Concert Winds Ensemble and then, in the 2015-2016 Season,founded the Saxophone Ensemble to provide further musical development opportunities for our evergrowing number of saxophonists in the San Jose Youth Symphony. Those sax players who are interested, could then eventually join as advanced players in the Jazz Ensemble. Charles has also worked as the Tour Operations Manager for the 2015 and 2017 International Concert Tours to Spain & Portugal, and then Croatia, Austria & Hungary, respectively. He also served as an instructor and administrator of the Music Matters education outreach program in its early years from 2003 – 2005.
As a clarinetist, Charles is a founding member of the San Francisco Wind Ensemble. He has held positions with local ensembles, including the San Jose Wind Symphony, Monterey Bay Wind Symphony, Chabot Wind Symphony and Master Sinfonia Chamber Orchestra. His clarinet teachers include Dr. Janet Averett, Mark Brandenburg and Jorge Montilla. Hisconducting teachers include Maestro Yair Samet, Dr. William Reber and Dr. Edward C. Harris.