AVANT & AVANCÉ FLUTE CHOIRS
Beaming with talent, dedication and passion, the Avant Flute Choir of the San Jose Youth Symphony plays a well-rounded and eclectic curriculum for the eager performing flutists with performance opportunities that provide a rich diversity in musical selections ranging from Classical, 20th Century Music, Jazz, Pop and music of ethnic origin.
The Avancé Flute Choir is the advanced flute ensemble, comprising outstanding flute musicians who will perform a wide range of the most challenging repertoire. Members of the advanced ensemble are invited to participate in an annual competition, the Solo Competition,  where winners are awarded cash prizes, as well as the opportunity to perform as soloists at their concerts.
Both choirs are led by conductor, Sarah Benton,  a highly regarded musician and educator, as well as alumna of the SJYS Philharmonic Orchestra, and its former principal flute!

Rehearsals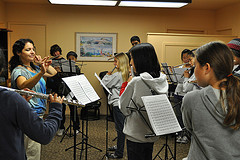 Rehearsals are held every Monday from 6:00 – 7:30 pm (Avant Flute Choir) and from 7:45 – 9:15 pm (Avancé Flute Choir) at Faith Lutheran Church (FLC), located at 16548 Ferris Avenue, in Los Gatos. (map)
Concerts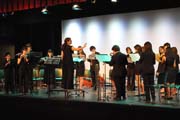 The Avant & Avancé Flute Choirs perform three concerts per season, with the Concert Orchestra, at various local concert venues. Winners of prior season's  Avancé Flute Choir's Solo Competition perform as soloists with the choirs  at the concerts.
Here is a video of a recent performance by the choirs.