PHILHARMONIC ORCHESTRA
The Philharmonic Orchestra is the premier orchestra of the San Jose Youth Symphony. Membership is reserved for outstanding players who demonstrate strong musicianship, advanced technique, and the discipline necessary to perform in a pre-professional orchestral setting. Musicians have the opportunity to study and perform a wide range of challenging masterpieces from the symphonic repertoire.
Watch an excerpt from one of their recent concerts!
Artistic Requirements
Musicians must meet these artistic requirements in order to be accepted into the Philharmonic Orchestra.
2022 – 2023 Season Repertoire
Season Opener Concert – December 3, 2022, 2 pm, at the California Theatre, Downtown San Jose
Debussy – Nocturnes: 2. Fêtes
Ibert – Concerto for Flute and Orchestra
Grace Yan, flute
Saint-Saëns – Marche héroïque
Dvořák- Cello Concerto in B minor, Op. 104
Justin Kim, cello
Smetana – The Moldau
Spring Concert – March 18, 2023, 2 pm, at the California Theatre, downtown San Jose
Khachaturian – Masquerade Suite
Shostakovich – Piano Concerto No. 2 in F Major

       Kerry Xu, piano

Tchaikovsky – Violin Concerto in D Major, Op. 35
Ekaterina Kabenina, violin
 Prokofiev – Romeo & Juliet
Season Finale – June 3, 2023, 2 pm, at the California Theatre, downtown San Jose
Elgar – The Wand of Youth, Suites 1 & 2
Britten – The Young Person's Guide to the Orchestra
Concerts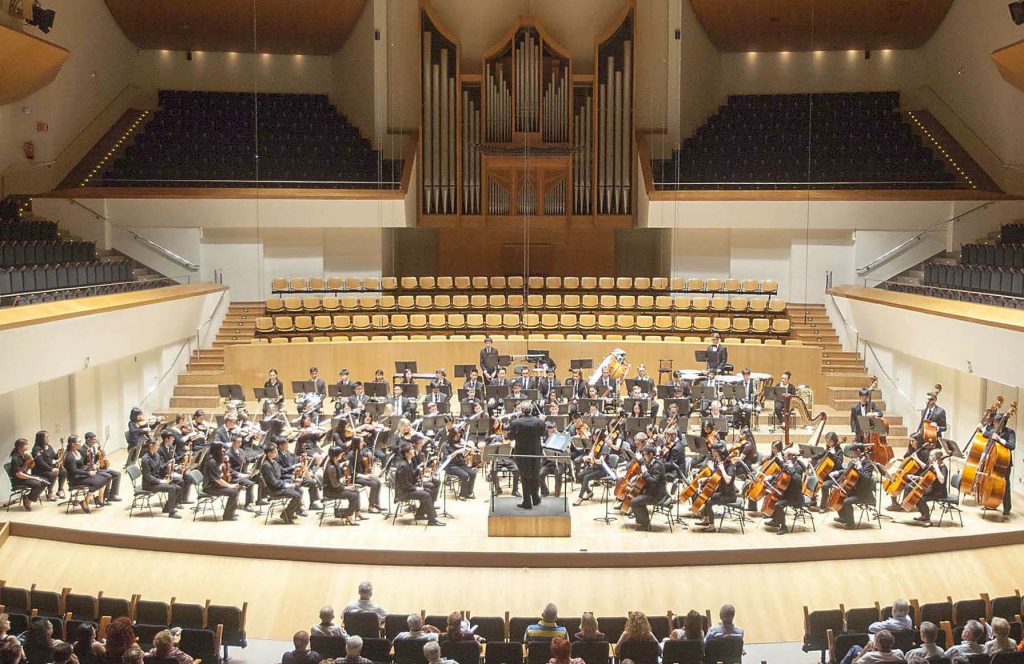 The Philharmonic Orchestra performs three subscription concerts per year in December, March and June at the historic California Theatre in downtown San Jose. In addition, the orchestra performs occasionally at special City and community events.
The Orchestra has performed with many internationally renowned artists in concert and on tour. They include Jon Nakamatsu, Gold Medal winner of the 1997 Van Cliburn International Piano Competition, Axel Strauss, professor of violin at the San Francisco Conservatory of Music, Taylor Eigsti, renowned jazz pianist and two-time Grammy Award nominee, and Max Zorin, critically acclaimed violinist and faculty member of the Penn State School of Music.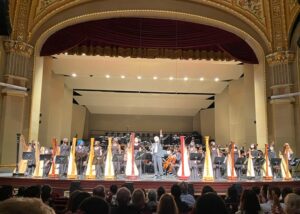 The Philharmonic Orchestra has collaborated with many local and international leading arts groups, among them the San Jose Symphony Orchestra, the Asian Youth Orchestra, the Okayama Youth Orchestra, San Jose Taiko, Firebird Youth Chinese Orchestra, Mariachi Cobre, San Jose Children's Musical Theater, the Batucada nana Latin Ensemble, the Crystal Children Choir, the Homestead Jazz Ensemble, the Latin Jazz Ensemble from San Jose State University, and the Los Gatos Ballet in its annual full productions of The Nutcracker.
Rehearsals
Rehearsals are held every Monday from 6:30 – 9:30 pm at the Los Gatos United Methodist Church (LGUMC), 111 Church Street, Los Gatos.
Sectionals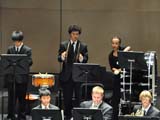 Philharmonic Orchestra musicians will benefit from sectional rehearsals throughout the season, where they will be coached by leading professional musicians from the area.
International Tour
Every two years the Philharmonic Orchestra embarks on an international concert tour in the summer. Past destinations include Europe (Ireland, Belgium, Netherlands, Germany, Austria, Italy, Spain, Portugal), South America (Argentina, Chile & Uruguay), Eastern Europe (Bosnia and Herzegovina, Slovakia, Slovenia, Czech Republic, Poland & Hungary) and Asia (Japan). Please visit our tour page for more information about past tours.
Last season, the orchestra traveled to the Baltics, with performances and stops in Vilnius, Lithuania; Riga, Latvia; Parnu and Tallinn, Estonia; and a final performance in Helsinki, Finland!